Hey guys! Today we were supposed to have a guest post by the fabulous
Evie
, but something must have come up and she wasn't able to post today, which is totally fine. I found some time to put together this Reader's Ramble. This was actually scheduled to go up on the 16th but it'll just go up today! So, enjoy!
I will be reviewing Never Have I Ever, The Lying Game # 2 by Sara Shepard! This will be kind of a series review, since most of you haven't read the first book.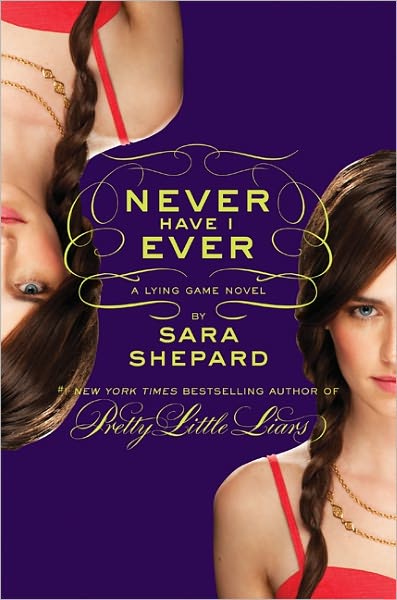 My perfect life was a lie.




Now I'd do anything to uncover the truth.




Not long ago, I had everything a girl could wish for: amazing friends, an adorable boyfriend, a loving family. But none of them know that I'm gone—that I'm dead. To solve my murder, my long-lost twin sister, Emma, has taken my place. She sleeps in my room, wears my clothes, and calls my parents Mom and Dad.




And my killer is watching her every move.




I remember little from my life, just flashes and flickers, so all I can do is follow along as Emma tries to solve the mystery of my disappearance. But the deeper she digs, the more suspects she uncovers. It turns out my friends and I played a lot of games—games that ruined people's lives. Anyone could want revenge . . . anyone could want me—and now Emma—dead.
Plot-
Well, you guys know I love, love, love Sara Shepard. And if you don't, well, I DO! She is one of my biggest inspirations in writing. If there is one thing Sara is great at, it's mysteries. She creates such a thrilling, mysterious, and awesome mystery here that makes you wonder so much! You are never bored in one of Sara's books. There is always something happening and so much drama, which I love. She created such a unique and fun story here, it's all just so great! It makes you crave for more. I mean on top of all this mystery, she even adds romance! I love the whole popular girl set up she created for Emma, having her take up her dead twin sister Sutton's life. I can't wait for the next book, the suspense is driving me crazy! Just love, love.
As you all may have heard, this series is becoming a TV show on ABC Family! It premieres on August 15th at 9! It is going to be very different from the books, and I already know the books are a lot better. You get so much more out of reading the books then watching the show.
As you can see in this, the twins meet. In the books, Sutton is dead before Emma gets there. And Emma is told BY THE KILLER that she needs to take Sutton's place. That already shows you how different the show will be. On the bright side, that is how I imagined all the characters! They even changed Emma's last name from Paxton to Becker, wow.
I'm excited to see how the show turns out, but it will probably end up making me mad like Pretty Little Liars does. I recommend reading the books over watching the show, or at least do both!
Setting-
Somewhere in Arizona.. I don't really have an opinion about it. I mean I think it fits well with the story, how the town holds many secrets and has problems. I liked it.
Theme-
I feel like the main theme of this series is trust. Emma needs to know who to trust in her life. Are her friends really her friends? Can she even trust her family? Trust is always a theme of Sara's novels. I love it! I mean in our lives these days we never really know who we can trust. I have trust issues.
Characters-
These characters are like ones you find in my novel Flawed and in published books like The Clique. You hate them because they are the snooty, arrogant, and evil popular girls. But then again, you love them in a way! I think Sara has created some really awesome and realistic characters, I can relate to them all even though I'm not mean and popular.
Emma isn't mean and popular though, she just got stuck in a life of someone who is! I love her and I feel like we'd be friends if she existed. I love her determination to find out who killed her sister. She is doing a great job taking the life of Sutton. Speaking of Sutton, that is such a unique name! Sutton was really evil when she was alive and I wouldn't like her if she really existed, but I love her as a character! It's that love/hate relationship.
Emma Paxton (Becker) & Sutton Mercer who is played by Alexandra Chando






Cover-
I love the cover! I think it is really cool and mysterious, showing both of the twins together. I would pick it up from a book shelf. Plus, the title is a cool game! That just tells you this book is going to be awesome.
Overall-

I mean you guys all know how I feel about Sara Shepard, she is my favorite author. I honestly think this series is another great creation by her. I loved the whole mystery of this, I'm a sucker for a good mystery! These books leave you craving for more and dying to know all the secrets! There is always something happening or always someone who is a suspect in this story. I think it's exciting, thrilling, and scary! It gives you goose bumps!
I highly recommend the The Lying Game
series
to you all. It is one of my favorite series ever! With that being said, I give this book 5/5 stars!
So I was going to read Water For Elephants next, but I was really dreading it. I saw the movie so it's like it ruins it for me since I know what will happen. The whole thing would be boring and the suspense would be gone. So I borrowed The Goddess Test from my cousin while on our vacation. It's Greek Mythology which I find quite interesting even though I am not a fan of fantasy. So, that'll be the next Reader's Ramble!
Tomorrow look out for
Qui's
guest post!