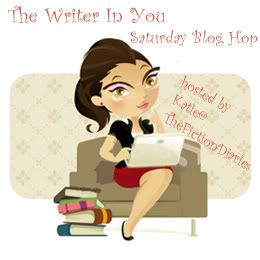 Yeah, this is a Saturday Blog Hop but I'm doing it today!
There are only 5 rules to this blog hop:
1. Follow me, your blog hop host! Then come back every Saturday for the week's question.
2. Be consistent: Don't forget to post your answer on Saturdays! It gives fellow WIY visitors something to comment on!
3. Grab the blog hop button below and post it on your blog; spread the word!
4. Post a link to your blog hop post on the linky-list below every week!
5. Visit other hoppers blogs! The whole point is to meet other writers and for everyone to gain a few followers:)
And today's question is....
When did you know you wanted to be a writer? Did you share it with people or keep it to yourself?
I started writing stories with my friend in 3rd grade (8 years old). We based our little series off of a recess game we played, where we were each a tiger with a special power. Mine was invisibility I think... and I'm pretty sure hers was to fly... oh and the Tigers were sisters.
There was all kinds of adventures with those characters. I wrote different stories up until eighth grade, when I stopped writing all together. I don't know why I stopped, I guess I just didn't have time for it.
Then the summer before 10th grade (Summer 2010, 14 years old), I started up again. But this time, on the computer. That's when I got into Inkpop and the blogging world.
Back from 3rd grade to 7th grade, it was really just a hobby, something I enjoyed doing. I never even really considered it to be a career. It was just... something to do instead of be bored in class.
Even when I started writing again in summer 2010, it was just a hobby.
Then in about spring 2011 (15 years old), I started to realize that this was really my passion, and I enjoyed doing it so much. Inkpop really got me into it I think. I enjoyed reading other people's work and having them see my own. I liked expressing my character's feelings and describing things and etc.
I started to want to be an author. I realized it was something I could see myself doing in the future.
So, the answer to that is, when I was 15 years old, I decided I wanted to be a writer. I'm almost 17 now.
To the other question... no. I do not share it with people I know. The only two people in my real life who know I want to be a writer are my two cousins/ best friends. And they'd never tell a soul.
I could never tell my parents because they wouldn't understand. I'd be embarrassed to show them my writing and they probably wouldn't support it as a career.
They know I love English and reading books and writing NEWSPAPER ARTICLES, but not novels.
If any of my school friends or family found out, I don't know what I'd do.
People in my life just wouldn't understand what it means to me. I'd get made fun of for sure.
So, that's my Blog hop. Stop over to The Fiction Diaries to join in on the fun!
BUT, before I go...
I wanted to tell you all that I do have a new project in the works! It's called "King and Lionheart." The title comes from the song by Of Monsters and Men, because that song is basically the theme of my book. I'm in love with this song. It makes me want to cry because I think it's so pretty.
I have the characters created and their pasts developed, and the prologue written for the book. Once I have more written and a pitch created, I'll share it on here!
But, check out the cover, I'm pretty in love with it!
Hopefully this book will be more successful than the rest.
Also, WHO HAS FIGMENT!? Please add me on figment! I need friends!
http://figment.com/users/193394-PaigeW