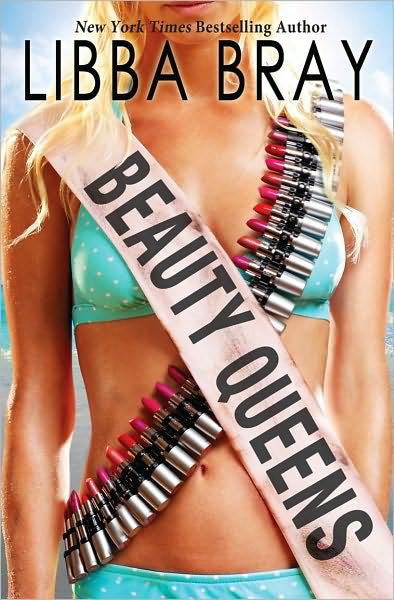 For this Reader's Ramble, I will be reviewing Beauty Queens by Libba Bray
Page count- 390
"The fifty contestants in the Miss Teen Dream pageant thought this was going to be a fun trip to the beach, where they could parade in their state-appropriate costumes and compete in front of the cameras. But sadly, their airplane had another idea crashing on a desert island and leaving the survivors stranded with little food, little water, and practically no eyeliner.





What's a beauty queen to do? Continue to practice for the talent portion of the program--or wrestle snakes to the ground? Get a perfect tan--or learn to run wild? And what should happen when the sexy pirates show up?"




Plot-

Well, first off, this was a really unique story. Libba Bray has a very wild imagination that really helps in her writing. I've never seen anything like this or would think of an idea like this.
Although, this is where most of my complaints will be. I didn't know where this story was headed for the longest time. It went really slow for a while and it was kind of a chore reading it for a bit. It didn't start getting exciting until around page 250 out of 390. I mean yeah in the beginning the girls crashed on the island which was pretty cool so there was some stuff going on there, then after that.. not much. Then the pirates showed up, mate!
This was also a very confusing story. Some parts I really didn't get. Her other novel, Going Bovine really confused me as well.
Other than it being slow and a tad confusing, it was a pretty awesome story once things picked up. There was action, adventure, romance, friendship drama, competition, suspense, and more! It was a really fun story over all.
I really liked how Libba Bray would trick me, making me think someone died as she ended a chapter, then coming back at another chapter and it turns out what you thought happened really didn't happen at all.
She created her own unique little world within this novel.
Setting-
A deserted island! No TV, computers, or basically any contact with the outside world. Or so they think... I liked the setting.
Theme-
I really think the theme of this novel is finding yourself. While stranded on the island, all the girls discovered something about themselves and one another. Whether if it was what they wanted to be when they grow up, their reason for being in the
pageant
, or whether they liked boys or girls, they all discovered something.
I also think another big theme is, never underestimate girls.
Characters-
I honestly liked them all. I mean I had my favorites but they were all cool. They all were
relate-able girls and had everyday problems that the reader could possibly have too.
Underneath their flawless faces was a secret or insecurity. Some of their parents pressured them to be in pageants and they didn't even want to be there at all. Some did it for scholarship money. Some did it to escape their home life. And some did actually like it..
There were so many characters in this book. I never truly connected with any of them. That is another complaint. I had trouble remembering names, what states they were from, and what their back story was.
Some
defiantly
stuck out more than others though. For the ones I could remember, I felt pain and worry for them. And she left us hanging about one character's future.. and it makes me sad.
Overall-

Overall, I liked this. It wasn't one of my favorite reads but it wasn't bad. It had a really happy ending which I enjoyed. After things sped up and got more exciting, so much stuff was happening and it was impossible to be bored.
I just feel like I never connected with this book, you know what I mean? There wasn't a pang inside me to continue reading and I felt like I never really knew the characters. And the whole being really slow and confusing.
With that being said, this book gets 4/5 stars.
So, I liked it. It was worth the time and money. I would recommend it. Maybe you'll like it more than me.
And to anyone who has read this book, I have a question. Was the whole thing supposed to be a TV show? I'm confused...they kept having commercial breaks...