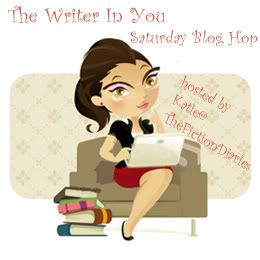 Start by adding your name to the list of blogs at the bottom of this page. Then comment on this page letting me know you've joined us!
Then write a post of your own answering the question of that week and link it back to this page; we want as many people as possible to join!
Then: start hopping! Visit as many or as few blogs as you like and be sure to leave a comment on their posts letting them know you stopped by.
There are only 5 rules to this blog hop:
1. Follow me, your blog hop host! Then come back every Saturday for the week's question.
2. Be consistent: Don't forget to post your answer on Saturdays! It gives fellow WIY visitors something to comment on!
3. Grab the blog hop button below and post it on your blog; spread the word!
4. Post a link to your blog hop post on the linky-list below every week!
5. Visit other hoppers blogs! The whole point is to meet other writers and for everyone to gain a few followers:)
And this week's question is....
What is your favorite

classic

novel and is there anything in particular you take from it that you hope to see in your own writing?
Well. I have two favorites. And I simply cannot choose which one I like better.
I read The Great Gatsby for 11th grade English. I had heard it was good, but extremely detailed. That was from regular students though.
I thought this book was extremely FANTASTIC.
I kept wanting to read ahead of everyone else because I couldn't wait to figure out what happened. But then if I read ahead I was screwed on chapter quizzes, so I couldn't.
This book was just... wow. The whole plot was spectacular. I enjoyed every second of it. I loved all the characters, and hated the ones I was supposed to hate.
I love Gatsby! *wipes away tears*
The symbolism in this book was what I think I really loved the most. I hope to have that kind of amazing symbolism in my writing some day.
The writing in this book was also just simply beautiful. I hope to be able to write that well some day.
I highly recommend this book to mature teenagers and up.
THE NEW MOVIE IS COMING OUT ON CHRISTMAS! I CANNOT WAIT! WITH LEONARDO DECAPRIO AS GATSBY! EEEEEKKKK!
GAHHHHHHHHH!
My other favorite classic is none other than...
I read To Kill A Mockingbird for 10th grade English.
I actually reviewed it
here
The writing and narration in this was fabulous. I loved Scout as a narrator. All of the characters were very well developed and I loved and hated the ones I was supposed to.
The whole plot of this... it's like a symbol. The symbolism in this book is even more powerful than that of The Great Gatsby.
There was seriously nothing I disliked about this book. In the beginning, it is kind of boring, but then after you finish you're like THAT WAS SUCH A CLEVER WAY TO START!
Once again, I hope to have symbols as great as these in my writing some day.
This is a book everyone needs to read. In or out of school. It teaches you life lessons.
I recommend this to mature teenagers and up.
I'm trying to read some other classics this summer on my own, such as Pride and Prejudice, Jane Eyre, and Wuthering Heights.
I've read some other classics, such as The Scarlet Letter, The Crucible, The Old Man and the Sea, Romeo and Juliet, Julius Caesar, Shane, Animal Farm, The Secret Garden, A Midsummer Night's Dream, The Pearl, Of Mice and Men, and some others that I'm not completely sure are classics...
I hope I can read those other three classics by the end of the summer! Have any of you guys read them? What are your thoughts?